SUPPLY
Your Partner for Reliable Supply of Advanced Materials
Goal: Provide long term supply of materials to customers throughout their supply chain.
CAPACITY
NanoSperse's expanded manufacturing facility includes a broad array of capabilities. In addition to world class dispersion and mixing capabilities, NanoSperse manufactures coatings, adhesives, resin and elastomer masterbatches, films, molding compounds, and continuous reinforced thermoplastic tape. NanoSperse has demonstrated capabilities to scale-up for specific customer needs, designing and installing production cells specific to the needs of its customers. Production volumes range widely depending on the product and needs of customers. NanoSperse manufactures quantities as small as quart kits to tens of thousands of pounds of compound.
NanoSperse quality systems are registered to AS9100D standards, providing customers with a direct path from Design, through Development, to quality long term Supply; all in one place.
ANALYTICS
Production capabilities are supported with analytical capabilities including DSC, Rheology, TGA, FTIR, microscopy, and wet chemistry capabilities. Analytical equipment is calibrated to provide customers with test results that can be relied upon for development and production certification of conformance. 
Customers control intellectual property strategy, facilitating a close working relationship and delivering maximum competitive advantage.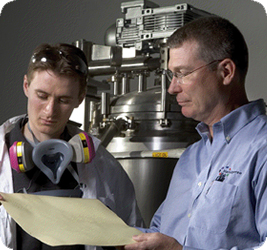 OUR MISSION:
To design, develop, and supply advanced materials that provide sustainable competitive advantage for our customers